Contact Us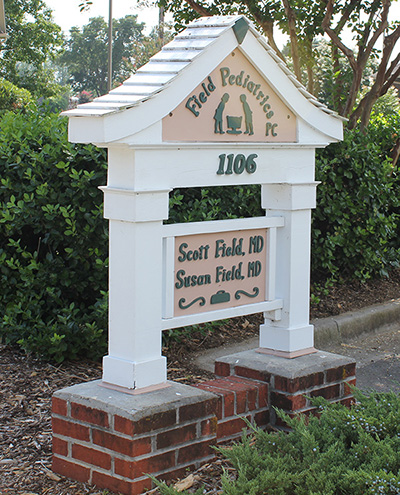 Convenient Hours and Emergency Care
Phone # 256-881-9355
After Hours Answering Service (normally forwarded From 1st#) 256-428-4001
Address:
Field Pediatrics
1106 Gleneagles Dr.
Huntsville, AL 35801

Directions to office:
From North of Airport Road, come South on the Parkway, turn left onto Airport Road, then make a quick left onto Balmoral Drive, then left onto Gleneagles Drive where we are the 4th building on the right (1106).

From South of the Parkway, come north on the Parkway and turn right onto Airport Road and follow the directions above.

From the East or from Whitesburg Drive, go west on Airport Road and turn right onto Balmoral Drive before you get to the Parkway, than follow the directions above.
Hours
Regular hours: Monday through Thursday AMs 8-12,
Friday AMs 9-12, & Monday through Friday 1-5 PM
Weekends: Doctor on call (Dr. Scott or Dr. Michael Powell or Dr. N. Rao Thotakura) has Saturday AM hours.
Emergencies on Holidays: Call regular phone # above.
We will not be open after December 30, 2021.